Katie Toombs was born in Beaufort, SC and moved to Memphis at an early age. She attended Germantown High School and later graduated from The University of Memphis with a degree in Home Furnishings. I guess you could say art and design have always been a part of who she is.
Katie's approach to creating art is very loose and relaxed. She draws her inspiration from her surroundings and memories of growing up in the south. She is known for her calming color palette and layers of paint applied with a palette knife. Her pieces compliment any style and offer comfort to those who collect them.
Katie currently resides in Collierville, TN with her husband and their four children. When she's not painting you can find her cheering on her kids sports teams, frequenting coffee shops or playing with her beloved Goldendoodle, Toby.
Memphis Skyline Watercolor in Acrylic Frame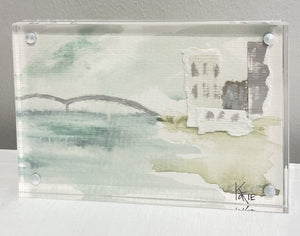 "Protector" Painting