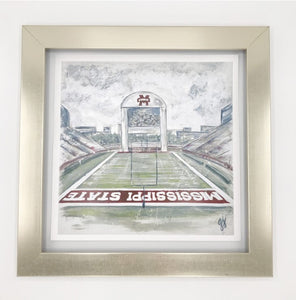 Davis Wade Stadium at Scott Field, is the home playing venue for the Mississippi State Bulldogs football team. Located in Starkville, Mississippi, the stadium has a capacity of 61,337 and is the largest football stadium in the state of Mississippi. Originally constructed in 1914 as New Athletic Field, it is the second-oldest stadium in the Football Bowl Subdivision.
The precise origin of the cowbell as a fixture of Mississippi State sports tradition remains unclear to this day. The most popular legend is that during a home football game between State and arch-rival Mississippi, a jersey cow wandered onto the playing field. Mississippi State soundly whipped the Rebels that Saturday, and State College students immediately adopted the cow as a good luck charm. Students are said to have continued bringing a cow to football games for a while, until the practice was eventually discontinued in favor of bringing just the cow's bell.
This is a hand-signed and dated Georgia Jane paper print is 11x11 and perfect for any Mississippi State fan. Frame not included.