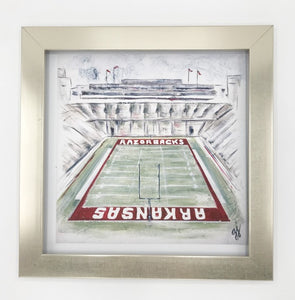 Donald W. Reynolds Stadium, located in Fayetteville, Arkansas, has been the home of the Razorback football team since 1938. The stadium was renovated in 2018 increasing the capacity from 51,000 to 72,000.
One of the older traditions at Arkansas is the "Calling of the Hogs."
Fans have been calling since the 1920's.  The school's best known cheer at football games starts with both hands being raised in the air, waving fingers, as the volume gets louder and the crowd says "wooooo." Next the arms go down during the word "pig." Finally, the arms go back in the air, through a fist motion, during the word "sooie." The third Hog Call ends with the fans chanting the word "Razorbacks!"
This is a hand-signed Georgia Jane paper print is 11x11 and perfect for any Razorback fan. Frame not included.