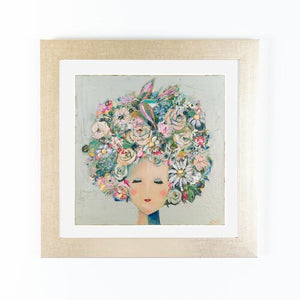 Garden Goddess
Close your eyes
Feel your strength from within
Lift your face to the sun
Where you came from
And where you are going
Are parts of your wholeness
And there is more
You bring beauty from the soil
And share it with the world
Mother Nature smiles warmly upon you
For your generous beauty
And outpouring of love
And tenacious spirit
Are the fruits of your spirit
.
.
I wrote this poem in honor of all the wonderful gardeners out there. And I'm not just talking about the plant ones. Perhaps you are cultivating minds in the classroom, nurturing neglected relationships, or helping grow life skills for people who need to get back on their feet. If you are tending to plants, brains, or relationships, thank you for the beautiful and good work you're doing in this world.
Originally painted with watercolor on cold press watercolor paper. This archival print is locally and professionally printed on 12 x 12 heavy watercolor-type paper with Erika Roberts Studio logo printed on the back. Each print arrives signed by the artist, Erika Roberts, and enclosed in a protective cellophane sleeve.  
Most orders ship within 3-5 business days.
12 x 12 print ships in a rigid cardboard envelope.
For all wholesale pricing and inquiries, contact hello@erikaroberts.studio.