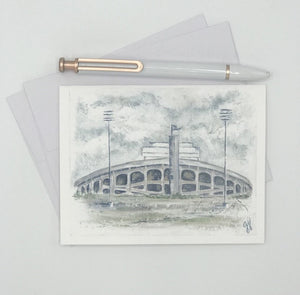 These notecards were created from an original Georgia Jane painting of the Liberty Bowl Memorial Stadium in Memphis, TN.

This landmark stadium opened in 1965 and is home to the University of Memphis Tigers,
Southern Heritage Classic, and the annual AutoZone Liberty Bowl.
The stadium was constructed as one single level to optimize sightlines, giving it a unique shape, like the curved brim of a hat.

The Liberty Bowl is the only remaining sombrero shaped stadium being used in the world.
Each notecard set is individually packaged in a cellophane sleeve and carefully shipped in a protective envelope. 
One package of four (4.5 x 6 1/4) note cards and envelopes.